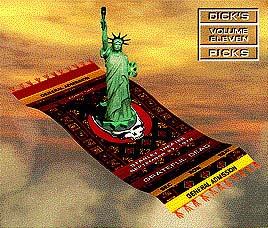 Songs Picked
Edit
Disc 1:
Morning Dew
Beat It On Down the Line
Friend of the Devil
Black-Throated Wind
Tennessee Jed
Mexicali Blues
Bird Song
Big River
Brokedown Palace
El Paso
Disc 2:
China Cat Sunflower->
I Know You Rider
He's Gone
Me and My Uncle
Deal
Greatest Story Ever Told
Ramble on Rose
Disc 3:
Dark Star->
Cumberland Blues
Attics of My Life
Promised Land
Uncle John's Band
Casey Jones
Around and Around

This release was recorded on 9-27-72 at the Stanley Theatre in Jersey City, NJ. This is the first complete Keith and Donna show to be released in the series.
Grateful Dead:
Jerry Garcia - lead guitar, vocals
Bill Kreutzmann - percussion
Phil Lesh - bass, vocals
Bob Weir - guitar, vocals
Donna Jean Godchaux - vocals
Keith Godchaux - keyboards
Production:
Dick Latvala - tape archivist
Gecko Graphics - design
Owsley Stanley, Bob Matthews - recording
Jeffrey Norman - CD mastering
John Cutler - magnetic scrutinizer
Jonas Grushkin - photography
Paul Grushkin - CD liner notes
Ad blocker interference detected!
Wikia is a free-to-use site that makes money from advertising. We have a modified experience for viewers using ad blockers

Wikia is not accessible if you've made further modifications. Remove the custom ad blocker rule(s) and the page will load as expected.