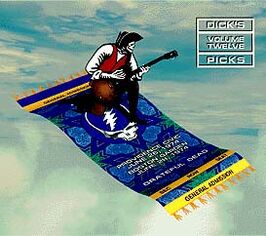 Songs Picked
Edit
Disc 1:
Jam->
China Cat Sunflower->
Mind Left Body Jam->
I Know You Rider
Beer Barrel Polka->
Truckin'->
Other One Jam->
Spanish Jam->
Wharf Rat->
Sugar Magnolia
Disc 2:
Eyes of the World
Seastones
Sugar Magnolia->
Scarlet Begonias
Big River
To Lay Me Down
Me and My Uncle
Row Jimmy
Disc 3:
Weather Report Suite->
Jam->
U.S. Blues
Promised Land
Goin' Down the Road Feeling Bad->
Sunshine Daydream
Ship of Fools

This release features most of the second set from 6-26-74 Providence Civic Center in Providence, RI (minus the set opening U.S. Blues and Me And My Uncle) and the entire second set from the next show on 6-28-74 at the Boston Garden in Boston, MASS.
Grateful Dead:
Jerry Garcia - lead guitar, vocals
Bill Kreutzmann - percussion
Phil Lesh - bass, vocals
Bob Weir - guitar, vocals
Donna Jean Godchaux - vocals
Keith Godchaux - keyboards
Production:
Dick Latvala - tape archivist
Gecko Graphics - design
Bill Candelario - recording
Jeffrey Norman - CD mastering
John Cutler - magnetic scrutinizer
Jim Anderson, Mary Ann Mayer, Bruce Polonsky - photography
Ad blocker interference detected!
Wikia is a free-to-use site that makes money from advertising. We have a modified experience for viewers using ad blockers

Wikia is not accessible if you've made further modifications. Remove the custom ad blocker rule(s) and the page will load as expected.