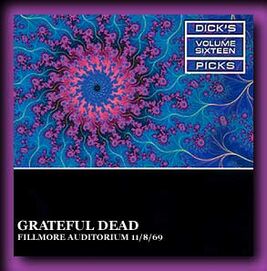 Songs Picked
Edit
Disc 1:
Good Morning Little Schoolgirl [13:33]
Casey Jones [4:52]
Dire Wolf [8:24]
Easy Wind [9:05]
China Cat Sunflower --> [3:46]
I Know You Rider --> [5:40]
High Time [7:48]
Mama Tried [3:13]
Good Lovin' [9:18]
Cumberland Blues [4:19]
Disc 2:
Dark Star --> [14:10]
The Other One --> [12:02]
Dark Star --> [1:01]
Uncle John's Jam --> [2:43]
Dark Star --> [3:05]
St. Stephen --> [7:45]
The Eleven --> [14:02]
Disc 3:
Caution --> [17:29]
The Main Ten --> [3:10]
Caution --> [9:02]
Feedback --> [7:58]
We Bid You Goodnight [3:22]
Filler: 11-7-69
Turn On Your Lovelight [25:29]

This release was recorded 11-8-69 at the Fillmore Auditorium in San Francisco, CA with a bonus Lovelight recorded the night before at the same venue. This show was originally going to be the first release after vault archivist Dick passed but the tapes needed extra work so 9-3-77 was moved up and this was the next release. This release includes early instrumental versions of Uncle John's Band and The Main Ten which would become Playing In The Band.
Grateful Dead:
Tom Constanten - keyboards
Jerry Garcia - lead guitar, vocals
Mickey Hart - drums
Bill Kreutzmann - drums
Phil Lesh - bass, vocals
Ron "Pigpen" McKernan - harmonica, percussion, vocals
Bob Weir - rhythm guitar, vocals
Production:
Dick Latvala, David Lemieux - tape archivists
Gecko Graphics - design
Owsley Stanley - recording
Jeffrey Norman - CD mastering
John Cutler - magnetic scrutinizer
Rosie McGee – photography
Jim Wise - additional editing
Ad blocker interference detected!
Wikia is a free-to-use site that makes money from advertising. We have a modified experience for viewers using ad blockers

Wikia is not accessible if you've made further modifications. Remove the custom ad blocker rule(s) and the page will load as expected.