Disc 1:
Dancing In the Streets-> [6:52]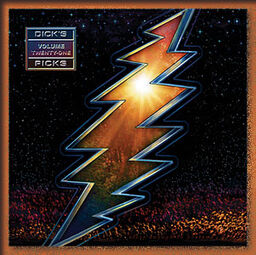 Cold Rain and Snow [7:31]
Little Red Rooster [8:22]
Stagger Lee [5:56]
Me and My Uncle-> [3:04]
Big River [6:19]
Brown-Eyed Women [4:55]
Jack Straw-> [5:25]
Don't Ease Me In [3:14]
Disc 2:
Samson and Delilah [7:35]
High Time [8:44]
He's Gone-> [11:07]
Spoonful-> [4:55]
Comes A Time-> [9:03]
Lost Sailor-> [7:28]
Drums-> [9:03]
Disc 3:
Space-> [11:27]
Saint Of Circumstance-> [6:53]
Gimme Some Lovin'-> [4:28]
She Belongs To Me-> [7:54]
Gloria [6:52]
Keep Your Day Job [4:11]
Space-> [8:33]
Iko Iko-> [7:46]
Morning Dew-> [11:06]
Sugar Magnolia [9:14]

This release is the complete concert recorded on 11-1-85 at the Richmond Coliseum in Richmond, VA. It has several bonus songs from the end of the second set recorded 9-2-80 at the Community War Memorial in Rochester, NY. This was the first release to feature a digital recording in the series as 11-1-85 was recorded on Beta PCM tapes.
Ad blocker interference detected!
Wikia is a free-to-use site that makes money from advertising. We have a modified experience for viewers using ad blockers

Wikia is not accessible if you've made further modifications. Remove the custom ad blocker rule(s) and the page will load as expected.