Songs Picked
Edit
2-23-68 Kings Beach Bowl, King's Beach, Lake Tahoe, CA
Disc 1: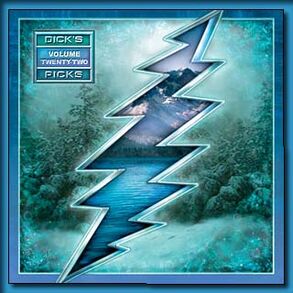 China Cat Sunflower --> [4:38]
Turn On Your Lovelight [12:40]
Born Cross-Eyed --> [2:32]

2-24-68 Kings Beach Bowl, King's Beach, Lake Tahoe, CA Disc 2:
Morning Dew [8:10]
Good Morning Little School Girl [14:39]
That's It for the Other One --> [8:13]
New Potato Caboose [9:08]
Alligator --> [3:45]
China Cat Sunflower --> [4:14]
The Eleven --> [7:17]
Alligator --> [6:39]
Caution (Do Not Stop on Tracks) --> [11:49]
Feedback [4:55]

This release was compiled from the last two shows of a three night stand at a bowling alley. Nothing was used from the first night due to the fact that the vocals were missing from the recording of that show. These shows (and several others) were recorded for use in making Anthem Of The Sun and part of the Caution here can also be heard there. This is the only release in the Dick's Picks series not to be made from a two track recording.
Personnel
Edit
Grateful Dead
Edit
Production
Edit
Live recording – Dan Healy
Tape archivists – Dick Latvala, David Lemieux
CD mastering – Jeffrey Norman
Archival research – Eileen Law
Cover art and design – Tina Carpenter
Layout design – Robert Minkin
Photos – Andy Mond, Patricia Holmbo, Brad Perks, Chris Jepsen
Ad blocker interference detected!
Wikia is a free-to-use site that makes money from advertising. We have a modified experience for viewers using ad blockers

Wikia is not accessible if you've made further modifications. Remove the custom ad blocker rule(s) and the page will load as expected.