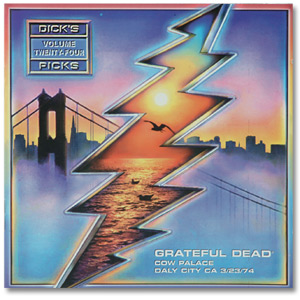 Dick's Picks Volume 24 is the twenty-fourth installment of the popular Grateful Dead archival series. It documents most of the concert from 3/23/74 at the Cow Palace in Daly City, California. The two-disc vault release is mastered in HDCD. This is a significant show in Dead history, being the first to use the complete Wall of Sound setup, a short-lived sound system abandoned after hardly two years due to high maintenance costs. They began work on it in 1973 and smaller versions of the system were used right up until this show. It also features the first performances of "Scarlet Begonias" and "Cassidy".
Track listing
Edit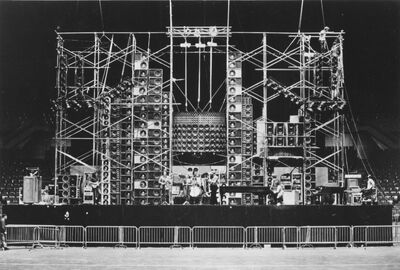 "U.S. Blues" (Robert Hunter, Jerry Garcia) – 6:16
"Promised Land" (Chuck Berry) – 4:04
"Brown-Eyed Woman" (Hunter, Garcia) – 5:27
"Black-Throated Wind" (John Barlow, Bob Weir) – 7:04
"Scarlet Begonias" (Hunter, Garcia) – 7:14
"Beat It On Down The Line" (Jesse Fuller) – 3:46
"Deal" (Hunter, Garcia) – 5:29
"Cassidy" (Barlow, Weir) – 4:09
"China Cat Sunflower"-> (Hunter, Garcia) – 8:41
"I Know You Rider" (trad., arr. Grateful Dead) – 6:02
"Weather Report Suite" (Eric Andersen, Barlow, Weir) – 15:34
"Playing In The Band"-> (Hunter, Mickey Hart, Weir) – 14:11
"Uncle John's Band"-> (Hunter, Garcia) – 9:16
"Morning Dew"-> (Bonnie Dobson, Tim Rose) – 12:31
"Uncle John's Band"-> (Hunter, Garcia) – 6:27
"Playing In The Band" (Hunter, Hart, Weir) – 4:11
"Big River" (Johnny Cash) – 5:54
"Bertha" (Hunter, Garcia) – 6:35
"Wharf Rat"-> (Hunter, Garcia) – 9:29
"Sugar Magnolia" (Hunter, Weir) – 8:57

This release includes most of the performance although 11 songs were edited out for a two cd release and performance quality.
Grateful Dead
Edit
Jerry Garcia – lead guitar, vocals
Bob Weir – rhythm guitar, vocals
Phil Lesh – bass guitar, vocals
Donna Godchaux – vocals
Keith Godchaux – keyboards
Bill Kreutzmann – drums
Recording - Bill Candelario
Tape archivists - Dick Latvala, David Lemieux
CD mastering - Jeffrey Norman
Archival research - Eileen Law/Grateful Dead Archives
Cover art and design - Tina Carpenter
Cover photography - Brad Perks, Kim Steele, Jeremy Woodhouse
Wall of sound photos - Mary Ann Mayer
Layout design - Robert Minkin
Booklet notes - Bear
Special thanks - Bruce Ede, Dorene Will - Cow Palace
Ad blocker interference detected!
Wikia is a free-to-use site that makes money from advertising. We have a modified experience for viewers using ad blockers

Wikia is not accessible if you've made further modifications. Remove the custom ad blocker rule(s) and the page will load as expected.