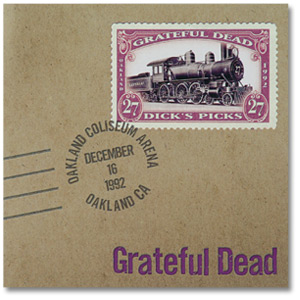 Dick's Picks Volume 27 is an album by the Grateful Dead, the twenty-seventh installment of their archival release series. It was recorded on December 16, 1992 at the Oakland Coliseum Arena, in Oakland, California. It was released in 2003.
Dick's Picks Volume 27 also contains four bonus songs recorded at the December 17, 1992 concert at the Oakland Colieum. These include the encore, the only officially released version of the medly "Baba O'Riley" and "Tomorrow Never Knows". This is also the only release in the series to feature Vince Welnick without Bruce Hornsby.
Track listing
Edit
First set:
"Feel Like a Stranger" (John Barlow, Bob Weir) – 9:20
"Brown-Eyed Women" (Robert Hunter, Jerry Garcia) – 5:22
"The Same Thing" (Willie Dixon) – 8:09
"Loose Lucy" (Hunter, Garcia) – 7:21
"Row Jimmy" (Hunter, Garcia) – 10:10
"Let it Grow" (Barlow, Weir) – 13:05
Second set:
"Shakedown Street" (Hunter, Garcia) – 12:59->
"Samson and Delilah" (traditional, arranged by Weir) – 7:28
"Ship of Fools" (Hunter, Garcia) – 7:39
"Playing in the Band" (Hunter, Mickey Hart, Weir) – 12:33->
"Drums" (Hart, Bill Kreutzman) – 14:41->
"Space" (Garcia, Phil Lesh, Weir) – 10:56->
Disc Three
Edit
Second set, continued:
"All Along the Watchtower" (Dylan) – 6:38->
"Stella Blue" (Hunter, Garcia) – 8:43->
"Good Lovin'" (Artie Resnick, Rudy Clark) – 8:30
Encore:
"Casey Jones" (Hunter, Garcia) – 5:38
Bonus tracks — December 17, 1992:
"Throwing Stones" (Barlow, Weir) – 9:43->
"Not Fade Away" (Buddy Holly, Norman Petty) – 10:58
"Baba O'Riley" (Pete Townshend) – 3:28
"Tomorrow Never Knows" (John Lennon, Paul McCartney) – 4:46
Personnel
Edit
Grateful Dead
Edit
Production
Edit
Recording – Dan Healy
Tape archivist – David Lemieux
Archival research – Eileen Law
CD mastering – Jeffrey Norman
Design & layout – Robert Minkin
Photography – Ken Friedman
Ad blocker interference detected!
Wikia is a free-to-use site that makes money from advertising. We have a modified experience for viewers using ad blockers

Wikia is not accessible if you've made further modifications. Remove the custom ad blocker rule(s) and the page will load as expected.