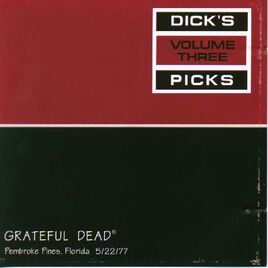 Songs Picked
Edit
Disc 1:
Funiculi Funicula
The Music Never Stopped
Sugaree
Lazy Lightnin'->
Supplication
Dancin' In The Streets
Help On The Way->
Slipknot!->
Franklin's Tower
Disc 2:
Samson and Delilah
Sunrise
Estimated Prophet->
Eyes of the World->
Wharf Rat->
Terrapin Station->
(Walk Me Out In The) Morning Dew

This release was recorded 5-22-77 at the Sportatorium in Pembroke Pines, FL. The "Lady With A Fan" part of Terrapin Station was not played at this show. The band had just signed a new distribution deal with Arista/BMG at the time and this was the first release that allowed them to use a show after 1976.
Grateful Dead
Edit
Production
Edit
Betty Cantor-Jackson - recording
Dick Latvala - tape archivist
Jeffrey Norman - CD mastering
Ed Perlstein - photography
Gecko Graphics - design
Ad blocker interference detected!
Wikia is a free-to-use site that makes money from advertising. We have a modified experience for viewers using ad blockers

Wikia is not accessible if you've made further modifications. Remove the custom ad blocker rule(s) and the page will load as expected.