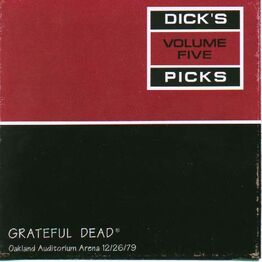 Songs Picked
Edit
Disc 1:
Cold Rain And Snow
C.C. Rider
Dire Wolf
Me And My Uncle->
Big River
Brown-Eyed Women
New Minglewood Blues
Friend of the Devil
Looks Like Rain
Alabama Getaway->
Promised Land
Disc 2:
Uncle John's Band->
Estimated Prophet->
Jam->
He's Gone->
The Other One->
Drums->
Disc 3:
Drums->
Jam 2->
Not Fade Away->
Brokedown Palace->
Around and Around->
Johnny B. Goode
Shakedown Street->
Uncle John's Band

This release was recorded 12-26-79 at the Oakland Auditorium Arena, Oakland, CA. This was the first time Uncle John's Band and Brokedown Palace had been played since 1977. Last Uncle John's Band was 5-19-77 at the Fox Theatre in Atlanta, GA and the last Borkedown Palace was 10-14-77 at Hofheinz Pavilion, University Of Texas, Houston, TX. This show is also the last time that Brokedown Palace would not be played in an encore position. This was the first Dick's Picks to feature a full concert release.
Grateful Dead
Edit
Production
Edit
Betty Cantor-Jackson - recording
Dick Latvala - tape archivist
Jeffrey Norman - CD mastering
Jay Blakesberg - photo
Gecko Graphics - design
Ad blocker interference detected!
Wikia is a free-to-use site that makes money from advertising. We have a modified experience for viewers using ad blockers

Wikia is not accessible if you've made further modifications. Remove the custom ad blocker rule(s) and the page will load as expected.