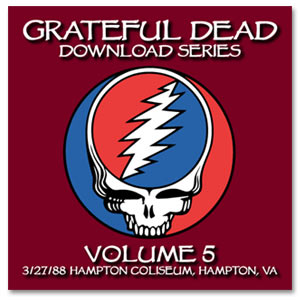 Volume 5 is the fifth in a series of live digital downloads of the band the Grateful Dead released by The Grateful Dead Productions. It was released on September 6, 2005 and is a three disc set featuring all of the March 27, 1988 show from the Hampton Coliseum in Hampton, VA. Except for the first two songs being from an "Ultra-Matrix" soundboard/audience tape hybrid, the concert is from the soundboard master.
The show included one of only eight times the Grateful Dead played Bob Dylan's "Ballad Of A Thin Man". The show also features the only time the band performed Miles Davis' "So What".
Volume 5 was mastered in HDCD by Jeffrey Norman.
Track listing
Edit
"Iko Iko" (Traditional) - 5:06
"Little Red Rooster" (Willie Dixon) - 8:32
"Stagger Lee" (Robert Hunter, Jerry Garcia) - 5:33
"Ballad Of A Thin Man" (Bob Dylan) - 7:04
"Cumberland Blues" (Hunter, Garcia, Phil Lesh) - 5:02 >
"Me and My Uncle" (John Phillips) - 3:10
"To Lay Me Down" (Hunter, Garcia) - 8:03
"Let It Grow" (John Perry Barlow, Bob Weir) - 11:22
"Space" (Garcia, Weir, Brent Mydland, Lesh) - 2:19 >
"So What" (Miles Davis) - 0:57 >
"Sugar Magnolia" (Hunter, Weir) - 5:13 >
"Scarlet Begonias" (Hunter, Garcia) - 10:55 >
"Fire On The Mountain" (Hunter, Mickey Hart) - 10:39 >
"Estimated Prophet" (Barlow, Weir) - 10:29 >
"Eyes Of The World" (Hunter, Garcia) - 8:31 >
"Rhythm Devils" (Hart, Bill Kreutzman) - 7:33 >
Disc three
Edit
"Space" (Garcia, Weir, Mydland, Lesh) - 7:31 >
"Goin' Down The Road Feeling Bad" (trad.) - 5:52 >
"I Need A Miracle" (Barlow, Weir) - 3:20 >
"Dear Mr. Fantasy" (Jim Capaldi, Steve Winwood, Chris Wood) - 4:53 >
"Sunshine Daydream" (Hunter, Weir) - 4:45
"U.S. Blues" (Hunter, Garcia) - 5:43
Personnel
Edit
Grateful Dead: Jerry Garcia: lead guitar, vocals Brent Mydland: keyboards, Vocals Mickey Hart: drums Bill Kreutzmann: drums Phil Lesh: electric bass Bob Weir: rhythm guitar, vocals
Recording by Dan Healy Mastering by Jeffrey Norman
Ad blocker interference detected!
Wikia is a free-to-use site that makes money from advertising. We have a modified experience for viewers using ad blockers

Wikia is not accessible if you've made further modifications. Remove the custom ad blocker rule(s) and the page will load as expected.