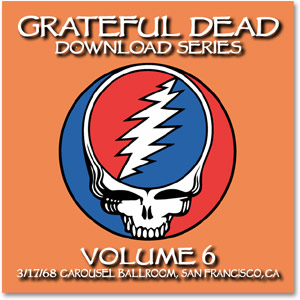 Volume 6 is the sixth in a series of live digital downloads of the band the Grateful Dead released by The Grateful Dead Productions. It was released on October 4, 2005 and is a single disc featuring some of the band performing on March 17, 1968 at the Carousel Ballroom (which later became the Fillmore West) in San Francisco, CA. The show features the first set closer Turn On Your Lovelight and the whole second set.
Volume 6 was mastered in HDCD by Jeffrey Norman.
Track listing
Edit
"Turn On Your Lovelight" (Joseph Scott, Deadric Malone) - 16:13
"That's It For The Other One": - 9:17
"New Potato Caboose" > (Bobby Petersen, Phil Lesh) - 8:26
"China Cat Sunflower" > (Robert Hunter, Garcia) - 4:42
"The Eleven" (Hunter, Lesh) - 10:56 >
"Caution (Do Not Stop On Tracks)" (Grateful Dead) - 20:54 >
"Feedback" (Grateful Dead) - 7:15
Personnel
Edit
Recording by Dan Healy Mastering by Jeffrey Norman
Ad blocker interference detected!
Wikia is a free-to-use site that makes money from advertising. We have a modified experience for viewers using ad blockers

Wikia is not accessible if you've made further modifications. Remove the custom ad blocker rule(s) and the page will load as expected.